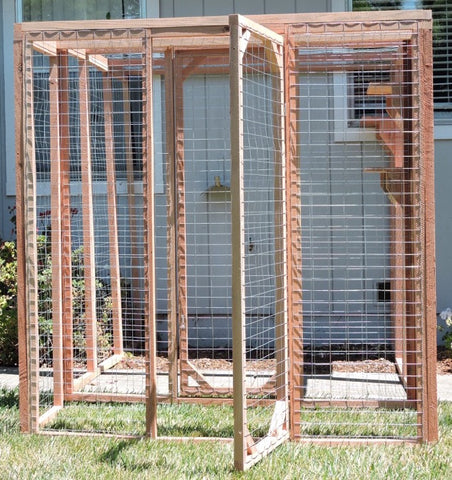 Cat Enclosure Double Entry
Worried about cats escaping when you open the door?  Add on the Double Entry system which allows you to enter a smaller area and close the door behind you before entering the Enclosure itself.  Great for ferals and other cats that like to bolt!  Available in both wire size openings.
Size:  70 1/2" wide x 22 1/2" deep x 6' tall
From Joy M.  I LOVE the cat Enclosure.
S Roberto says:  It has made my life and the life of my kitties so nice!  It is incorporated into my landscape and looks great.  Everyone who sees it is impressed.  Thanks again for a superior product.

Penny L wrote: 
Everything fit together nicely. Your instructions were perfect and the little tips and notes really made it go more smoothly. It fits perfectly... Thank you for all the help. 
---
We Also Recommend